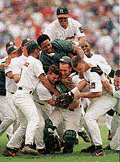 College athletics represents an enormous segment of the sport industry. Almost every college campus has an athletic department, and there are over 3000 colleges and universities in the U.S. Athletic departments might have numerous departments such as tickets, sports information, facilities management, equipment, student-athlete affairs, marketing, fundraising, and many more. Athletic departments are responsible for getting a team to the playing field an fans to the stadium. For many professionals working in the sport industry today, college athletics is where their career began. Athletic departments offer access for you to gain real life work experience, intimate knowledge of sport, and an understanding of sport business.
Amateur Athletics & Governing Bodies Segments:
Bowls / Special Events
Commissions / CVB's
High School
Intercollegiate
Olympic
Youth Sports
_____________________________________________________________
Contact Us Now to discuss how we can assist you in finding exactly the right candidate for your current or future opening!