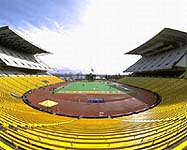 Wherever sports are played you are sure to find a facility designed for the enjoyment of sport or entertainment. It might be a simple field with small bleachers or quite possibly a 100,000 seat stadium. Other definitions of sports venues includes; city parks, natatoriums, tennis complexes, golf courses, and multi-use entertainment venues.

Career opportunities exist within a particular facility itself, with companies and organizations that manage facilities, or with companies that supply products and services to facilities. Most individuals are familiar with well-known sports facilities including Madison Square Garden, The Rose Bowl, The "old" Boston Gardens, Yankee Stadium, and the Los Angeles Coliseum.
Facilities / Live Events / Leisure Segments:
Arenas / Stadiums
Casino / Gaming / Hotel
Facility Development
Hospitality / Sports Travel
Industry Suppliers
Outdoor Tracks
Parks & Family Recreation
Entertainment & Leisure Activities
_____________________________________________________________
Contact Us Now to discuss how we can assist you in finding exactly the right candidate for your current or future opening!