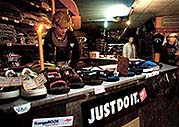 Sports apparel has become the attire of choice throughout much of the world. The impact and name recognition of the major companies in the sporting goods industry has increased tremendously. The sporting goods industry includes Manufacturers, both suppliers and producers of finished goods, and Retailers with either full-line stores or specialty stores and wholesalers/distributors who manage mass merchandisers and mail orders. Companies that fall into the sporting goods segment include: NIKE Inc., Reebok International Ltd., adidas-Group, Converse Inc., Wilson Sporting Goods Company Inc., Rawlings Sporting Goods Company Inc., Taylor Made Golf Company, Sportsmart, The Sports Authority, Oshman's, Champs Sports and Footlocker. If staying in touch with the latest fashion is your thing, then maybe a career in the sporting goods industry is right for you?
Sporting Goods Brands / Consumer Products Segments:
Action / Adrenaline
Apparel
Bowling / Billiards
Footwear
Golf / Tennis
Fishing / Marine
Hunting / Outdoor
Licensed Products
Snow Sports
Retail
Team & Athletic Equipment
Toys / Games / Specialty
_____________________________________________________________
Contact Us Now to discuss how we can assist you in finding exactly the right candidate for your current or future opening!