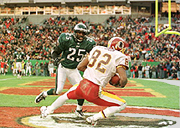 Professional teams are the most widely recognized industry segment in sports. Professional teams and leagues include various sports teams, leagues, and governing bodies for which individuals are compensated for performance.
Most notably are the NFL, NBA, MLB, NHL, WNBA, and MLS, and during the past two decades, more professional leagues have begun like the Arena Football and NFL Europe.
A career in this industry segment usually begins with an entry-level position as an account executive selling single, group, and season tickets. It might be easier to access a career by working in one of the minor leagues. Like the players, you will need to get experience prior to making it to the big leagues. Most of the positions within an organization are filled from within. Once you have had the opportunity to demonstrate your abilities and commitment, promotions will follow.
Teams & Professional Segments:
Baseball
Basketball
Football
Golf / Tennis
Hockey
Racing
Soccer
Emerging Sports
_____________________________________________________________
Contact Us Now to discuss how we can assist you in finding exactly the right candidate for your current or future opening!